LOS ANGELES
Photography

studio
Each and every production project presents itself with its own unique and specific needs. It is with this very reality in mind that our 1,000 square foot photography studio was specifically designed by a professional photographer to be as well prepped adaptable as possible. Here are just some of the many features we utilize for our own photo studio projects and options we offer of our clients as each of their needs demands.
FEATURES
On Site Parking

Easy Access

Gated, Secure Location

Indoor and Outdoor Spaces
OUR INTERIOR SPACE
Open Floor Plan

Versitle Power Options

Modern Furniture

Vaulted Ceilings
The Clybourn photo studio was built with the intent to provide a professional photo studio that would cater to both professionals as well as up and coming photographers. Our photo studio has everything you'll need for your shoot.
The property is unique in that we have multiple indoor studio sets and tons of outdoor filming options, all at one location.
Our staff, the amenities and secure parking make our property the dream spot in Los Angeles. We are a short drive from downtown Los Angeles and are nestled in
the San Fernando Valley.
Our professional studios have these spaces available for you to use for your shoot:
Bohemian Garden
Gazebo
Medeterrain Fountain
Blank Photogroghy Studio
Mini Stage
Outdoor Residential Set
Living Room Set
Rustic Barn Area
Parking Lot
Desert Set
Post Apocolypic Set
Mountain Overlook
How much does it cost to rent a studio for photography?
Prices can range from $295 for half a day's hire, to $1,000-$5,000 per session.
At Clybourn Studios we do all our pricing on per project basis. We want to ensure that our pricing is fair, meets your needs and over-delivers for what you "typically" experience from other agencies in the LA area. Please contact us to discuss your project!
How do I rent a studio for a photoshoot?
Determine What the Studio Provides:
Understand what a good, professional photography studio space should provide for your project.
There is an old adage in the creative space that hold true here…Good, fast, cheap …choose two
Los Angeles has tons of photography studios that can do it cheaper and faster, but will it be good?
At Clybourn Studios, we are a full boat studio. You'll get everthing you need to produce an incredible project with no extra add on's or "oh by the way" charges.
 Decide why you need a photography studio space.When you rent a photo studio space, lighting is the key element, no matter what type of project you are shooting.Do you need a lightbox, natural light, ambient light or a tight product shot? We invite you to tour the Clybourn property and help us determine what is the best set up for your project and what your vision is for the final product.
Is the space available and does it meet the time frame for your project?
Los Angeles is second to none when it comes to tight shooting schedules, last minute production changes and traffic challenges. We we have the luxury of a big footprint, a locale that's super close to downtown LA and the agility to take on most any project you need, no matter what the time frame.
What does a photography studio do?
A photo studio space is owned and aligned with one or more professional photographers. They provide the space, the lighting, creative input, props, sets and post production. Clybourn Studios is the most versitle and unique studio in the SoCal area.
Do you have indoor and outdoor shooting options?
Absoluetly. The beauty of  our property is the variety of shooting locations and scenes we have available in one place.  If you can imagine it, we can provide it. 
One of our favorite features of our studios, beyond the studios themselves, has to be the on-site luxury parking. As so many of us are used to the inconvenience and extreme lengths we will go through to work in L.A., our clients love that they have the option to park right in front of the studio doors, which makes unloading and re-loading equipment so much easier, relieving them of any number of other worries as well! 
We've worked in the industry in for many years, we know the frustration of working at locations in Los Angeles that require fast unloading/loading and street parking. You will be delighted to find that is the exact opposite experience of what we offer here at Clybourn Studios.
Removing the distracting worry of parking and providing immediate accessibility to our clients was one of our first priorities. Our desire is allow each artist and artistic team to fully concentrate their energies on their creative process rather than tangential inconveniences and annoyances. Our location features a gated entrance, so there's never a worry of someone being on our lot who shouldn't be.
Your safety and security are a priority to us.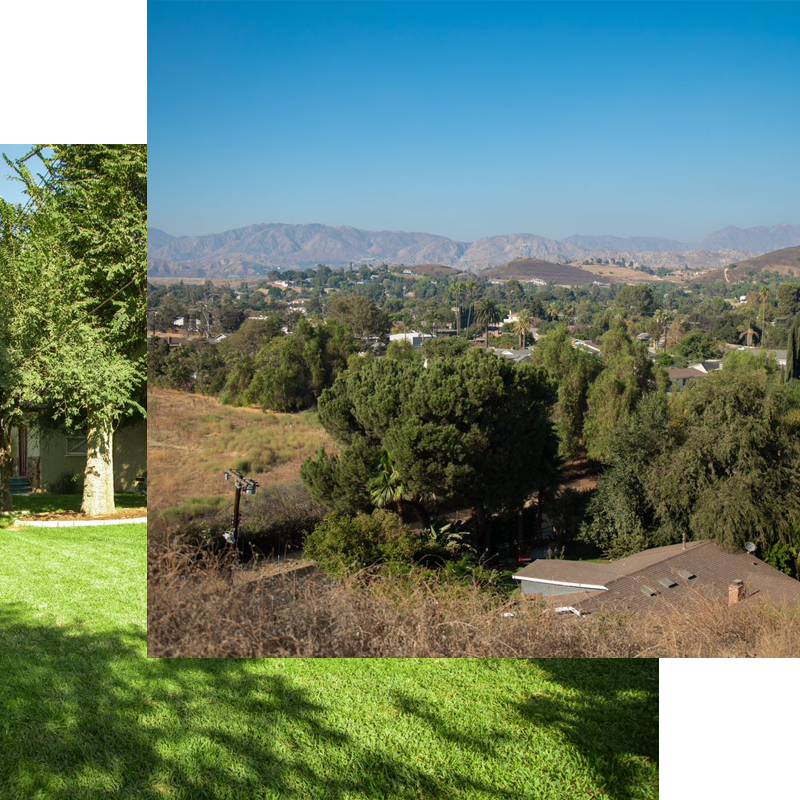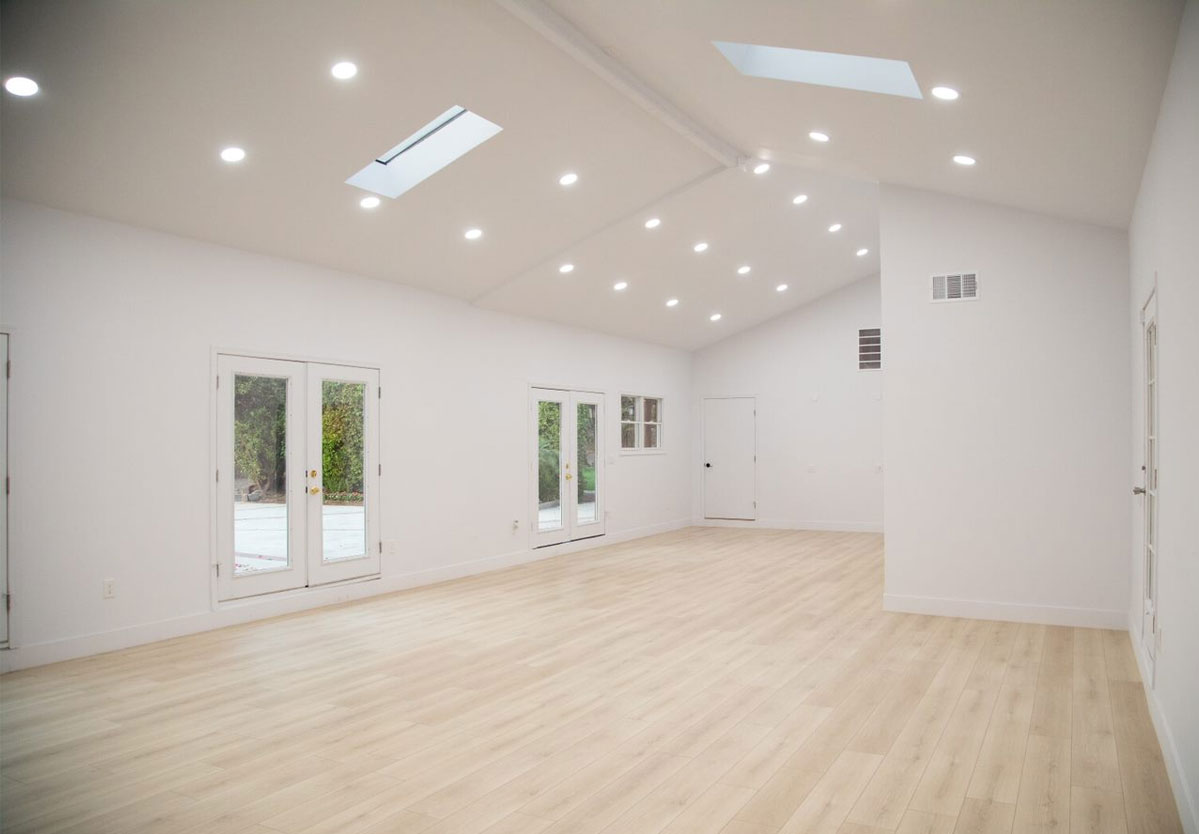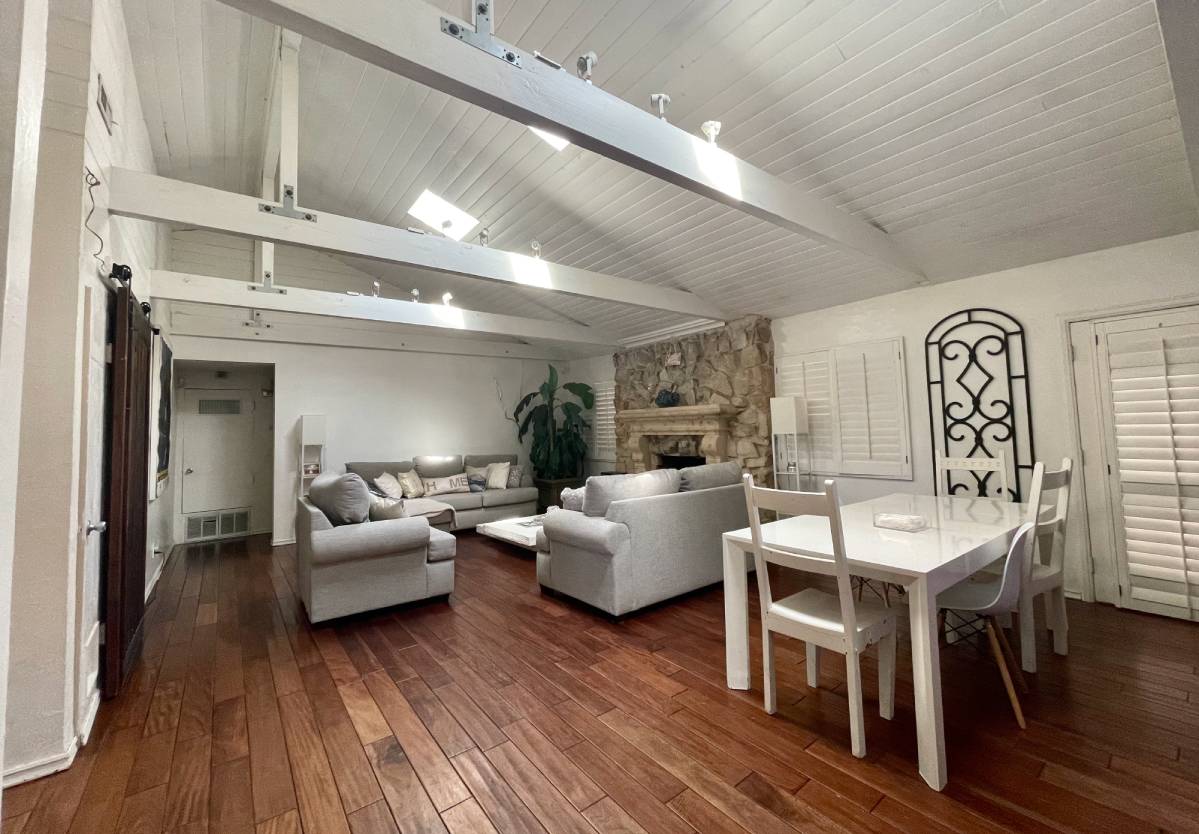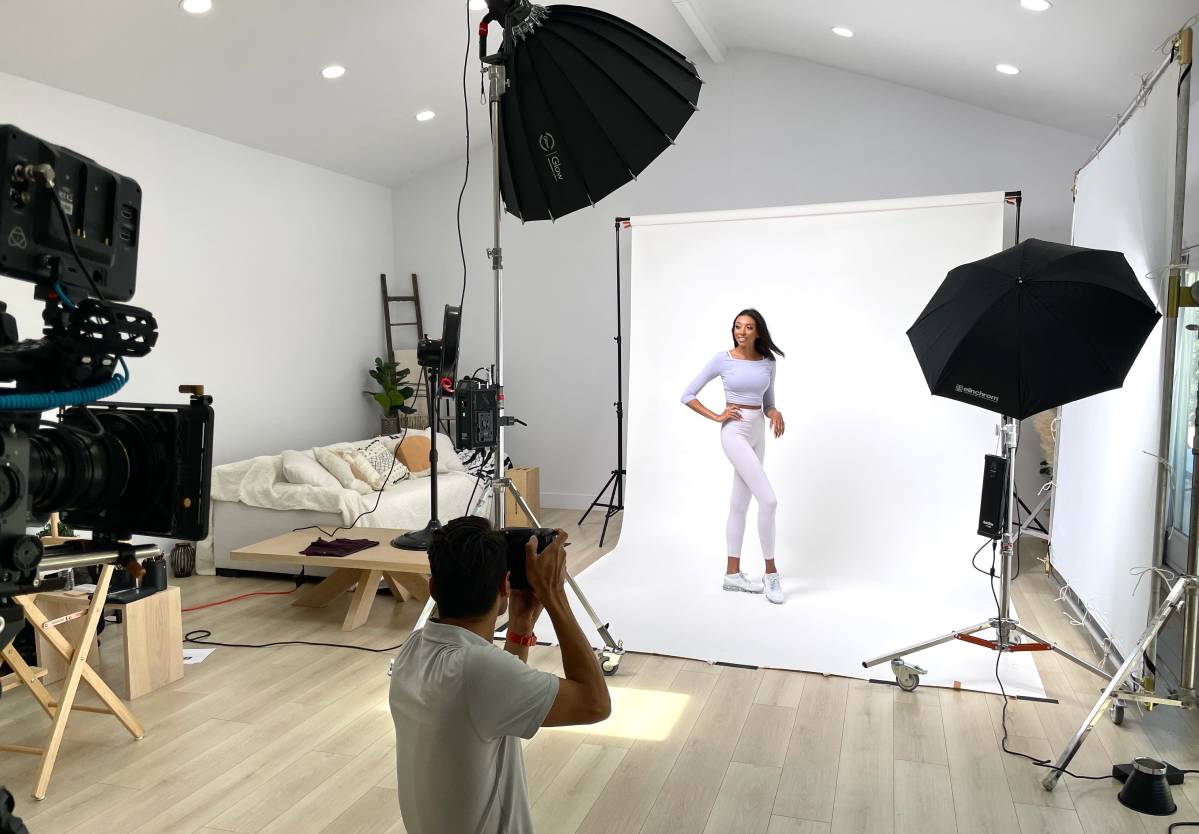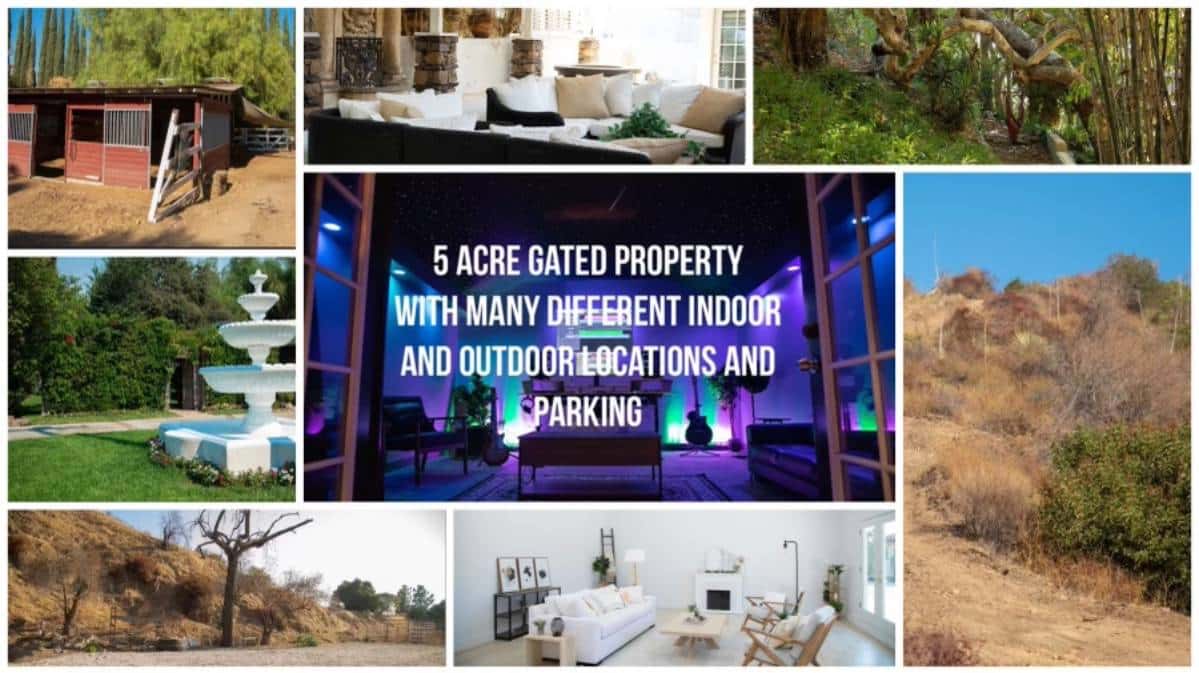 THE INTERIORS:
The interiors of our studios are something to be envied and something rarely found in Los Angeles ! Our main studio is set with 10–14 foot vaulted ceilings, bright white walls, and light oak wood flooring. The space is truly something you can make an open blank canvas with a modern touch. We also have a Malibu chic living room set with Restoration Hardware style furniture readily available as well. Because of the functional way the studio was designed, we're able provide the space completely empty, if desired, as nothing is attached or fastened hard to the floor or walls. 
EMPTY SPACE:
As an empty space, the studio is ideal for everything from customized sets and seamless backdrops to dance rehearsals and event display set-ups. We have a beautiful hand-made wooden dining room table that is perfect for intimate meetings, training sessions, hair and makeup prep, creating crew stations, or even a wedding rehearsal dinner. Our living room set provides a comfortable, yet modern style setting for photo shoots, talent holding, baby or wedding showers, interviews, residential scenes
and so much more! 
LIGHTING AND POWER SUPPLY:
Across the top of the studio's vaulted ceiling, we have a glulam beam that can hold up to 350 lbs. Power outlets have also been installed on the ceiling for optimal lighting needs. With the in-ceiling skylights and glass doors that line the length of the studio, the space makes for giant soft box with beautiful natural light. We also have bright white lighting in the ceilings that can be turned on in sections and dimmed as needed.
If your project requires complete control of the lighting, we can also black out the entire studio so that no undesired outdoor light infiltrates the space.
In addition, the main studio is furnished with nearly silent internal air conditioning to ensure both cooling and heating with the least amount of noise, so as not to disturb projects in progress. The studio space also has its own bathroom with a shower, as well as a built in kitchen space complete with marble counters and a sink.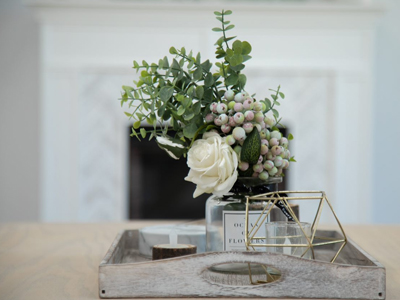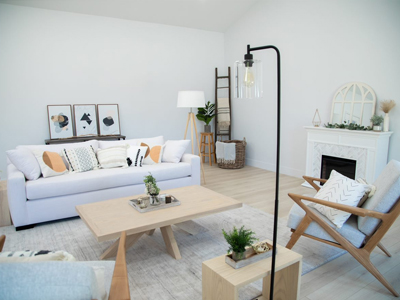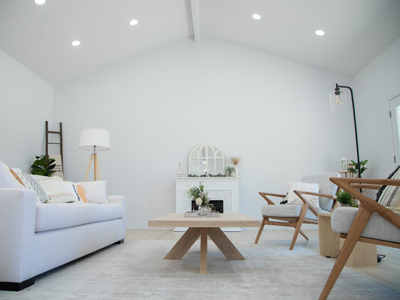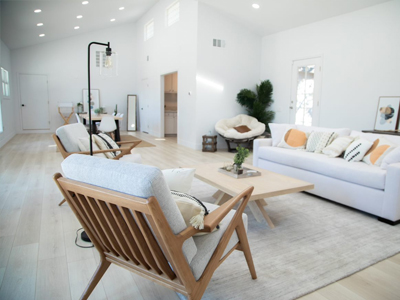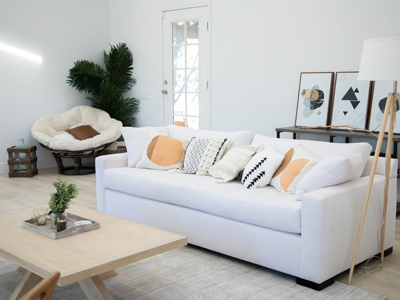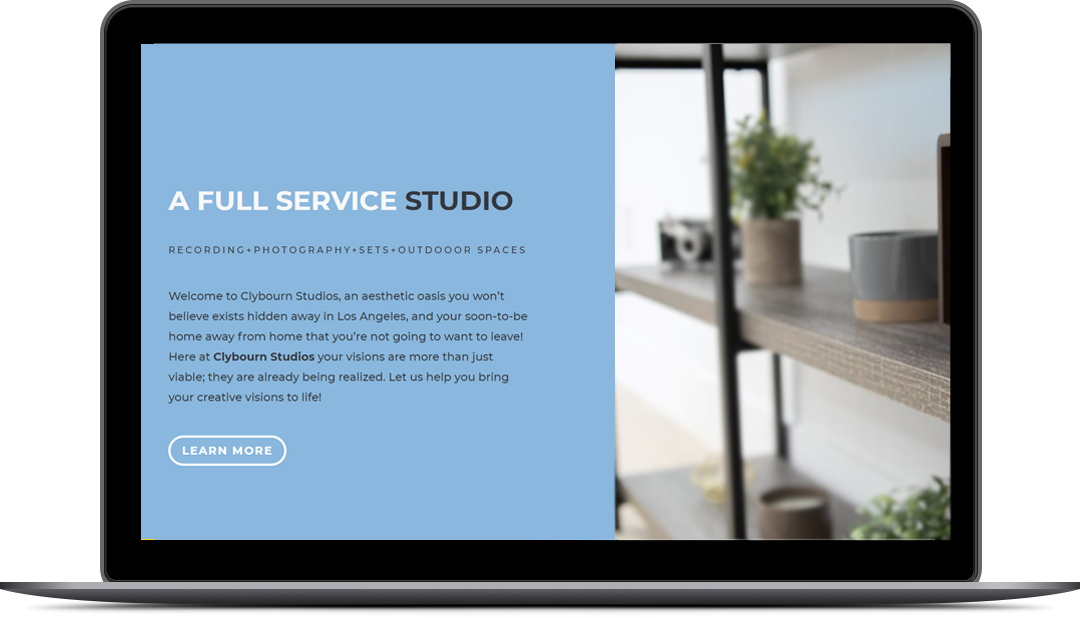 A DECADE PLUS OF EXPERIENCE.
WE PROVIDE:
>
Additional crew
Props
Photographers
Gaffers,
Grips,
Lighting equipment,
Tethering materials,
Wardrobe stylists,
Wardrobe racks,
Hair and Makeup artists,
Videographers and Camera equipment, Caterers,
Set designers and Decorators,
Prop masters, and additional services as needed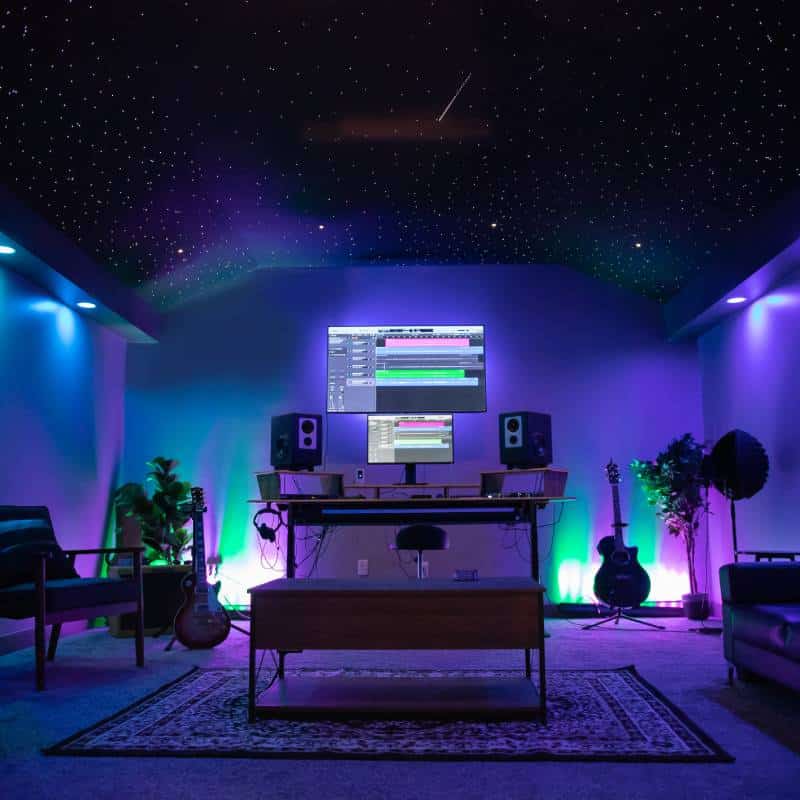 A Botique PHOTO studio experience in los angeles
If you're in need of an open space, a living room set, a custom set build or anything in between for your photo shoot, video shoot, commercial, social media content capture, film, event, training, or live stream, come discover the perfect, inspiring space to create here at Clybourn Studios in Los Angeles ! 
Have a question about something you don't see on our website?
Ask us anything anytime!
Send us an email or give us a call at (323) 493-0011.  We offer free tours and consultations if you'd like to stop by the studio before booking. Come create at Clybourn where even our ordinary is extraordinary!  We like to think we are the best photo studio in the LA area. 
Need recording studio space, livestreaming or an outdoor space…we do that too!